So I have finally released a bunch of graphics out to the wild. I have been planning to do this for a while and as an Artist and Designer I feel some duty to put some images out there royalty free.
Copyright is an issue, no one likes their stuff being stolen, worse someone taking your idea and making it their own. I know the taste so well I even wrote a poem about it
Conceptual appropriation

vibe suck in the maha tattva

in the land where everyone are pirates

where is the original idea ?

of all that be

and the beyond me

the creator god sheds his skin and another dream is created

but was it his anyway ?

where is the original?

Oh I'm tired of the force fed facsimile counterfeit currency that presents itself as the facts of reality

and the words of godhead marketed as

"even better than the real thing"
As artist you are always influenced by others and use their efforts as a stepping stone in your own work. There is a line between plagiarism and appropriation in Art & Design.  In my interpretation it comes down to creating an "fresh" conception that gives a new meaning to the original substance. Everyone hates a rip off  and only bad sports can't take a parody.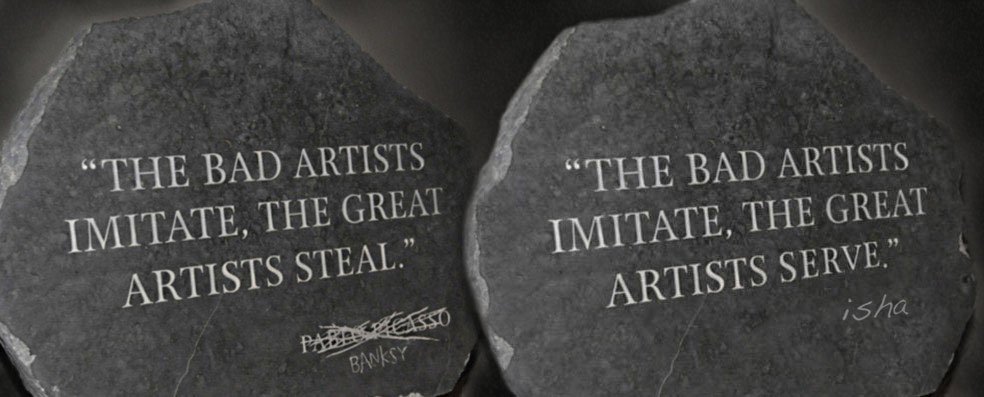 Everything is a Remix is great documentary highlighting  how recycling other works and ideas take place in the creation of pop culture. I highly recommend this independent documentary, it's well made, concise and a good exploration of the outcome of fine art appropriation as it filters into consumer culture.
No one is free from the remix so to offer back what I have used/borrowed/stolen in my art and design – here is my Creative Commons Collection.