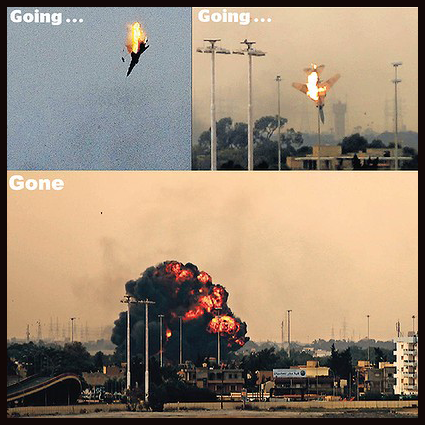 This image was used by the smh.com.au in the beginning of the media coverage of the 2011 NATO Libyan assualt. It took me back that such a cheap shot caption and image sequence was used to cover a such a serious news topic. I know that someone could counter " what do you expect from the media" but the SMH is not a Tabloid. In the age of post PC litigation multicultural human rights supporting Australia it surprises me that this would be published by a prominent news paper, announcing the beginning of a war.
It is obvious that someone has become desensitised by one to many late night video games and Hollywood action movies  to  the reality of the  impact of war upon real people living real lives.
It's good to know that some people are seeking to counter such social trends with real stories- The Bang Bang Club
UPDATE: 6th of May 2011 ~
So They found Osama and the Frenzied Media Circus has been in full flight, and MR Gruber sourced this.
Maybe we should always show pictures. Bin Laden, pictures of our wounded service people, pictures of maimed innocent civilians. We can only make decisions about war if we see what war actually is — and not as a video game where bodies quickly disappear leaving behind a shiny gold coin.
Jon Stewart:
Well Played by the Jo(h)n Team